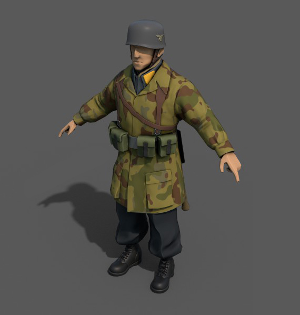 There's a growing feeling within the team that the game is shaping up into something really special. The mood, as they say, is boisterous (yeah I'm channeling Lieutenant George).
On the other hand, let me quickly also tell you that these special things can be kinda painful, and they sure take a long time to make. It's a mixed bag tbh.
For this post, I've lined up a bunch of updates, but without any sort of a big theme to tie them together. So let's just, uh… call it a Halloween update, and I hope it's a treat for you.
History Mode
The history mode (from UoC1) got a bit more involved now that we have Fog of War. As you'd know, FoW restricts your visibility of enemy units and actions while you're playing. However, once a scenario is finished, you can replay it in history mode and see through the FoW to check out what precisely happened.
This is called the "God Mode" for the moment, though I'm actively looking for a better name (call me).
Another new history mode option is perspective, which can be own, enemy, or changing. Again, this is possible for finished games only. A changing perspective will switch FoW visibility between turns, so that the replay is always viewed from the standpoint of the active player. Combining this with "God Mode" is a blast for hotseat game replays. Continue reading →