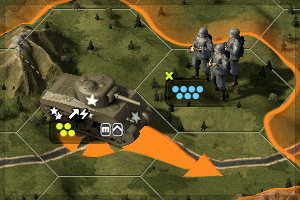 The rendering finally does most of what we want it to. It was about time frankly.
We've added billboards to display unit status: step count and the rest. I was unhappy with the amount of zoom normally provided by other games using this Civ-like perspective. I think this is partly because scaling the billboards is hard, which we learned (duh) the hard way. Now that we can scale them though, we've been having a great time zooming in and out. It's really awesome.
The Allied faction gets its own color, which is green, unsurprisingly. Our original idea was to keep it blue vs. red, but that puts us in problems for future Axis campaigns. Axis would be blue when playing against Soviets, but red against the Allies. There are no good solutions here (don't even get me started on making the Allies red) so we simply gave the Allies a jacked up green.
A bonus is that we can now use yet another color for when we want to be historically precise. For example, Finland in a 1939 scenario would be classified as Neutral (faction), rather than Axis. Feel free to propose a color for the neutrals… finding enough distinct colors for all the things we want color-coded is our daily nightmare, and we gladly welcome you to it.