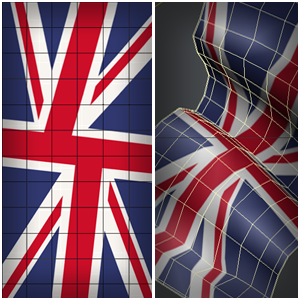 By now, a lot of the people following this diary must be thinking "so anyway, this game is practically done, right?"
I guess it depends on your definition of "practically". It is certainly playable, there are very few features that are outright missing, and the scenario count is up to around 20-ish. On the other hand, we're trying to make a game that's better than merely playable, so expect more diaries from me until we're judged release-ready.
As an example, the deformed Union Jack (on the left) is not an attempt at cheeky political commentary, it's actually what we need to do to make the flag readable in its wavy shape. I was not even aware of this process until Goran, our lead artist, showed me how we do this for almost every flag in the game.
It's a good illustration, I think, of the type of detailing work that we're doing right now. We take the game to be mechanically solid, and we're making rule changes only exceptionally. Our current focus is on the (many!) details that make up the flow and feeling of the game. Eventually, the plan is for the final round of scenario and balancing work to be done on a near-finalized, comfortably playable version of the game. Continue reading →