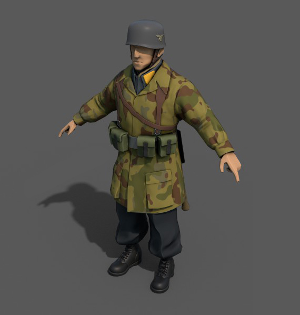 There's a growing feeling within the team that the game is shaping up into something really special. The mood, as they say, is boisterous (yeah I'm channeling Lieutenant George).
On the other hand, let me quickly also tell you that these special things can be kinda painful, and they sure take a long time to make. It's a mixed bag tbh.
For this post, I've lined up a bunch of updates, but without any sort of a big theme to tie them together. So let's just, uh… call it a Halloween update, and I hope it's a treat for you.
History Mode
The history mode (from UoC1) got a bit more involved now that we have Fog of War. As you'd know, FoW restricts your visibility of enemy units and actions while you're playing. However, once a scenario is finished, you can replay it in history mode and see through the FoW to check out what precisely happened.
This is called the "God Mode" for the moment, though I'm actively looking for a better name (call me).
Another new history mode option is perspective, which can be own, enemy, or changing. Again, this is possible for finished games only. A changing perspective will switch FoW visibility between turns, so that the replay is always viewed from the standpoint of the active player. Combining this with "God Mode" is a blast for hotseat game replays.
Road and Rail
In addition to supply, rail and roads now provide movement benefits to units. Moving along them generally costs 1 MP, ignoring most of the terrain and weather effects. There are only a handful of exceptions to this rule: for example, mountain roads cannot be used in snow.
Still, in bad weather, especially in the mud, the action becomes heavily road-bound. Cross country, the movement is much more expensive, and the supply is heavily disrupted. This system should adapt well to anything from the Allies slogging through the mud in Italy, to the dreaded Russian winter.
It is also possible for stragglers to block road/rail movement (stragglers were touched upon previously, here and here). The presence of stragglers negates any road benefits, and raises the movement cost to a minimum of 3 MP. Interestingly, while enemy stragglers can be taken prisoner, thus clearing the road, friendly stragglers cannot be cleared. That can put a real break on your offensive if you're not paying attention.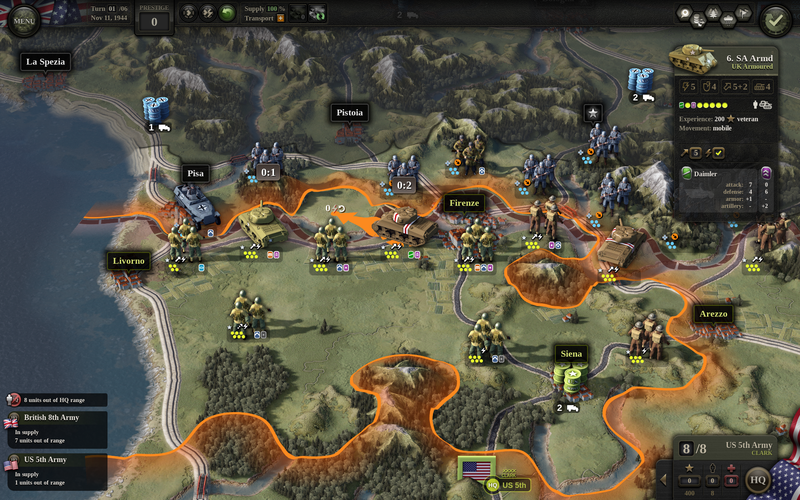 (click image for full size)
Reinforcements
Scenarios now start with a deployment phase (turn zero). This is the only time when you can get fresh reinforcements from SHAEF/OKW (the kind for which you pay prestige). It is not otherwise possible to receive them during scenario play – you have to make do with using the HQs to re-organize existing forces on the map.
There are other force pool changes as well. The game now tracks armor equipment as a separate category: a full armored division needs 2x armor equipment (per step), while a unit that's merely mechanized requires only one. This eliminates a number of exploits and inconsistencies from UoC1.
Rules for cross reinforcement between nationalities are currently under review. We're looking to make them streamlined, but realistic: for example, reinforcing a German panzer division with Italian armor equipment is unrealistic and should not be allowed. On the other hand, there's no reason to prevent (temporarily) attaching a US Ranger specialist to a British division. The new rules will attempt to spell all of this out without being excessively complicated. Fingers crossed.
Messages
The game now drops messages to inform you, principally about the state of your HQs, but a number of other things as well. Clicking on HQ messages selects the HQs, which alone makes them a useful shortcut. You can dismiss the messages by right-clicking (yes, they can be turned off altogether, for the benefit of grumpy people who already know they don't like them).
The messages are awfully useful to communicate game events better. For example, picking up prisoners (enemy stragglers) provides you with an intel marker – location of an enemy unit hidden in FoW. This fact may or may not be your primary focus at the moment it happens, so a discreet message is the best way of letting you know.
Another example are the HQ upgrades. As their subordinate units collect xp, HQs build toward receiving an upgrade (typically an increase in command points). The upgrade itself drops during normal course of play and again, there is no way for us to know if this is important to you at the moment it happens. So we drop a message, and sound a hearty DING for good measure. You may do a fist pump at this, or you might be focused on some objective and not care. Either way, a message is, I think, appropriate.
Modding
The modding system is up and running. Basically, user-made content and mods are placed in the same hierarchy of packages with our own base content and any future DLCs. The possibilities abound, as literally everything that's not hardcoded is in those packages, and can be overriden. So far, the team have been fooling around with camera settings and changing all fonts to Comic Sans… as you would, yeah?
Note that this is just the foundation, and all sorts of additional tools can be provided. For the moment, we promise to include the scenario editor on release, and eventually ship the map editor (that one requires quite a bit of work). If there's a big community response, we can provide more, we'll see how it goes.
Thanks for your attention. The work continues!