Red Turn: The Road to Berlin 1943-45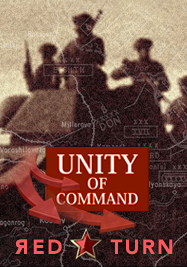 Dying days of the Stalingrad Campaign saw the Wehrmacht reeling under heavy blows. The battle of Kursk will now see them pursue an offensive agenda for one last time. Soon after, as the strategic initiative swings in favor of the Soviets, you are tasked with liberating the motherland in command of victorious Red Army forces.
Gigantic Soviet campaign featuring 17 scenarios
Two standalone Axis scenarios including Zitadelle, the Battle of Kursk
Four dedicated PvP scenarios including the tightly contested Korsun Pocket
39 different types of units modelled, including Panther and T-34/85 armor

Heavy-hitting late war specialist steps such as ISU-122 and Tiger II
Great for modding, with Unity of Command 1.04 featuring a scenario editor
This DLC (downloadable content) requires Unity of Command 1.04 or later to play. To check which version you are currently running, go to Main Menu -> Credits. For instructions on how to upgrade, click here.
Unity of Command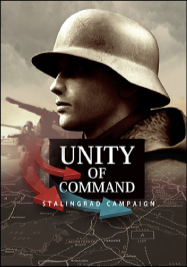 Unity of Command is an innovative and refreshing operational-level wargame that covers the entire 1942/43 Stalingrad Campaign on the Eastern Front. Playable from both the Axis and Soviet perspective, it strives to recreate the strategy, the forces involved and the general tension of that crucial period in World War II.
Experience the highly fluid, enormously large battles of maneuver in a turn-based strategy setting. Take command in this mobile, back-and-forth sort of war where logistics and poor weather are often the decider, and defeat and victory are sometimes just a mile, or a day, apart.
Also available at: Matrix Games | Gamers Gate
MacGameStore | Desura | GameStop | Slitherine
Gameplay Video
Features

Easy to learn and intuitive, with fast and flowing gameplay
Historically accurate operational-level units (Axis divisions, Soviet corps)
17 single player scenarios, Axis and Soviet, at the scale of 20km per hex, 4 days per turn
Campaign mode that puts historical and what-if scenarios in strategic context
Sophisticated weather model, with realistic per-hex weather
Novel supply system, providing for exciting battles of encirclement and breakout
Belligerent and aggressive AI that knows how to counterattack and threaten supply lines
Integrated "History Mode" for after-action replays
Multiplayer via the Internet
Screenshots