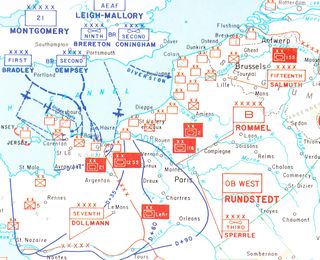 We are introducing Headquarters into the new game (please clap!). The HQs bring together functions that were previously abstracted like unit reorganization and bridging, plus many others that are completely new to the system. With very few exceptions, HQs represent historical Allied or German Armies, or Soviet Fronts. The new abilities they bring to the game are in Operations, Intel and Logistics, which is what you'd expect from that command level. The HQs may even have named, historical commanders like Rommel and Patton but don't tell that to anyone just yet.
An HQ commands its subordinate units within a command radius (depending on the scenario, there can be more than one friendly HQ present). This means you will want to keep your HQs reasonably close to the front line while trying not to risk them being attacked – HQs should defend themselves only as a desperate last measure. Headquarters are able deploy special abilities such as Emergency Supply (this simulates using their transport assets to supply a unit – broadly how Air Supply worked in the original). Deploying these abilities costs Command Points (CPs), which are available in limited supply for each turn. In general, command points abstract things like staff work and shared HQ assets, and force the player to prioritize – a single HQ cannot do everything on every turn.
HQs are essential to reinforcing and recovering lost unit strength, taking up the place of the old Force Pool entirely. Reorganized steps can only be deployed to units within range of the HQ, so there will be no more reorganizing a unit on one side of the map and then teleporting its steps to the other.
Finally, HQs can give enhanced operational orders to subordinate units – for example, a division can be given a No Retreat order, forcing it to hold on for as long as possible, similar to what NKVD steps did in the original. On the offensive, infantry units can be ordered to launch a Set Piece Attack against a fortified position, which produces limited results (e.g. reducing fortification), but also lower losses compared to a headlong attack. Other types of orders are available for use with armored units, or to support a specific fighting style of your faction. Your units will be more versatile and capable when supported by a HQ.
Headquarters give an entirely new dimension of control to the player. Whether you're using HQs to support an offensive or to bolster a defensive line, they unlock many new and exciting options – everything from reinforcements and supplies to special orders, engineering, and intelligence. We hope that this will give the player more choices and engagement in each scenario, along with more realism. Let us know in the forums and in the comments below what you think and if you have any questions.